Had a short-ish day, probably because I spent two hours and a bit working on a poster, for one of the millennium goals, found amazing graphs for it too. That was the highlight of my college day. I left early, the bus had come late so I almost missed the train - but it turns out that even though the bus was late, I'd taken the early train.
As with the social rule, no cameras when with others, these pictures were from google.
We had dinner at an Italian (pizza/pasta/salad) cafe, Café "C", sadly the menu was limited, and unless I'm going for pizza I won't be going there again. Jas wanted to be spontaneous, initially I was only going to get dessert (I like dessert) and wasn't really hungry, but he wanted to get a main, as he felt odd ordering something too big. He got the Gnocchi Gorgonzola, which he said was ok, lacked flavour (salt/pepper/etc) and was not recommended. That is disappointing, especially for an entree of 18.50.
It looked like this, but in a giant dish.
While I had the 'Grilled Chicken Skewers with Salad & Tzatziki Sauce' for 10.50, it consisted of two skewers, average flavours, 1/4 handful of salad, a piece of tomato and sauce - which was amazing, the sauce that is. Overpriced, but considered average for that area. Jas says that they have the best chefs on thu/fri and the worst on mon/tues.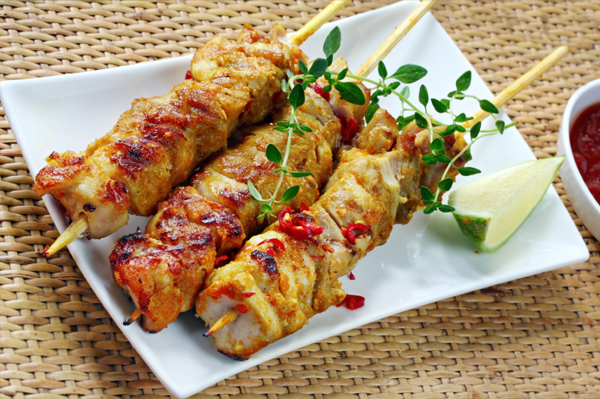 For dessert I had Passion fruit Tart, it was nice, and probably was not vegetarian :(, and a overprice, better than Lemon Tart though, I didn't like that at all from a past experience. I did like the layout though, a medium slice served with a dollop of cream and drizzles of what looked like strawberry jam, oddly there was a dot of it on Jas's dish too. For next time, if the play ends not very late, I'd recommend going to a chocolate cafe for dessert. Meanwhile Jas got the Sticky Date Pudding, and a date had the seed in it still. At Starbucks you could get a bigger slice for around the same price. Overall I wouldn't recommend this place - but I have yet to try the pizza.
After dinner we went to an indoor amphitheatre with geometric glass panels, designed for the performing arts, to see 'The Tempest', Shakespeare. It was good, performed by yr8's of the local college. It was a bit confusing though, because e.g. they had 4 kids playing a part, and sometimes the costumes were different, but overall it was pretty good, with some characters having any two costumes and 4 kids changing. Why is everyone so tall? O.O, to me only one girl truly looked like she was 14.
The Amphitheatre at Night, from the Outside